Wanaka Ski Accommodation for Groups and Families
The latest from Mountain Range
Wanaka Wedding Venues and Mountain Range Lodge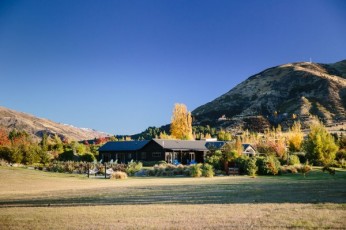 Perfectly located to some of Wanaka's most popular wedding venues and only a stones throw from 'The Venue'.
Mon, 19th May 2014
Looking for the perfect location to house your Bridal party, family members, or large group of friends? Mountain Range Boutique Lodge is so conveniently located to many wedding venues in Wanaka. We are a stone's throw from 'The Venue' and a short 5 to 10 minute drive from 'The Rippon Hall' or 'Edgewater Resort'. 'Lookout Lodge' and 'Cardrona Hotel' are also an easy 20-minute drive away.
All the Wanaka wedding venues have their own style and qualities and we are sure there will be something just perfect for your big day.
Now wouldn't it be nice to know you can also relax before and after the ceremony and reception in a luxurious, spacious, tranquil setting, large enough to take a few moments to yourself and keep everyone together, all under one roof?
Six of our bedrooms offer ensuites - with one room offering the extra special corner hot tub and super-king bed fit for the Bride & Groom and 2 other bedrooms have a shared bathroom (perfect for flower girls and page boys, perhaps?) so there is more than enough space to have some privacy, or for a group of people to all get ready at once!
With a large, modern kitchen equipped with full catering facilities for a large group, coffee machine, pots, pans, crockery, cutlery, 5 burner gas hob, French door fridge and a large table for everyone to sit around and share memories, make future plans or share many laughs together, we have your answer!
Enjoy a close cosy dinner together the night before the big day with everyone, and then enjoy a relaxed brunch or lunch the day after. Get picked up by helicopter and whisked off for photographs (yes, we can land helicopters in the garden!!!)
Mountain Range Lodge is easy to find- just off the main Cardrona Valley road and is so close to town, it is a simple 3 minute drive into the shops and central to all the necessities, sheltered and private, amazing views and peace and quiet, Mountain Range Boutique Lodge is most definitely the answer to housing the troops close enough to your Wanaka wedding venue.
For some help hints and recommendations that may help you plan your ultimate Wanaka wedding, make sure you check out www.wanakaweddings.co.nz and www.lakewanakaweddings.co.nz
There is information on the various venues, celebrants, photographers, cakes, flowers, hair stylists, make up artists, videographers, jewellers, suit hire, sound and lighting, transport options, entertainment, babysitters, stag and hens party ideas, honeymoons, hire services and unique wedding ideas.
Alternatively if the thought of organising all this makes you scream or shiver, you could always hire a wedding planner. www.boutiqueweddingsnz.com, www.mintevents.co.nz or www.wanakaweddingplanners.co.nz are a few companies that can offer their expertise and knowledge of Wanaka to help you on your way.
We are already taking bookings for the Summer 2014/2015 wedding season, so get in touch to find out more!
Add a comment